Bridgestone has announced the extension of its five-year manufacturer's warranty to nine years on selected Firestone agricultural radial tyres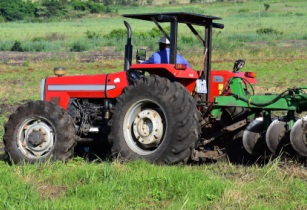 Tractor at work with suitable farming tyres. (Image source: Bridgestone)
Qualifying tyres need to be purchased in South Africa, Swaziland, Lesotho, Namibia, Botswana or original manufacturer fitted.
The company said that the tyres purchased from 14 May 2018 fall within the new warranty. Any agricultural tyre purchased before this date will fall under the existing five-year warranty.
"With agriculture set to play an increasingly important role in economic growth, Firestone is doing its bit to offer real value to the farming community," said Lungisa Xhelithole, Firestone brand manager at Bridgestone South Africa.
"Even though agricultural tyres are used in extreme conditions, this extension of the typical five-year manufacturer's warranty is a testimony to the confidence we have in our rigorous design and manufacturing processes," Xhelithole added.
Xhelithole has emphasised that the warranty covers manufacturing faults and that the tyres must be registered on the Firestone website.