New Holland showcased its fuel efficient farming equipmentat the SIAM 2015 show last month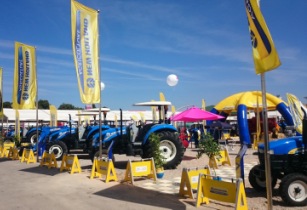 New Holland shared a 1,900m2 stand with its importer SOMMA Auto Hall. (Image source: New Holland)
More than 800,000 guests visited the 10th International Agricultural Show in Morocco (SIAM) in the northern city of Meknes, where New Holland Agriculture was among 1,200 exhibitors.
Sharing a 1,900m2 stand with its importer SOMMA Auto Hall, the agricultural equipment manufacturer was keen to highlight its range of fuel efficient, low emissions machinery.
As at SARA show in Cote D'Ivoire, the four models of the firm's new TD5 series and TD straddle mount tractors – with their Tier 3 compliant, fuel efficient Iveco 8000 Series engines – took prominence.
Also on show were the TT series tractors – said by New Holland to be "the most appreciated by Moroccan farmers – including the new Tier 3 TT75 model, designed to comply with "the most stringent emissions regulations in Morocco".
"The SIAM show confirmed to be the most important event of the year in Morocco and highlighted the importance of the agricultural sector, which is an essential part of the economy in the country," said Federico Bellotto, New Holland business director for the Middle East and Africa.
"We are pleased of the extremely positive response received from visitors, attracted by our product lines on display. Numerous end-users showed a strong interest in purchasing New Holland equipment and we are confident that these discussions will lead to interesting sales results."