Agricultural equipment company Case IH was the main sponsor at the 2015 Africa Sugar Outlook Conference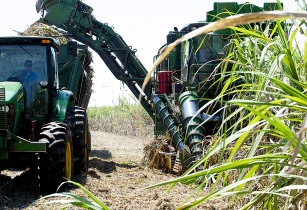 Case IH exhibited a range of products, including tractors and sugar cane harvesters. (Image source: .Shell/Flickr)
Gold sponsor for fifth year in a row, Case IH showcased its offerings at the show held in the Kenyan capital Nairobi from 28-30 April.
A collection of Case IH's Farmall and JX compact tractors were on show outside the event's main hall, including four Farmall A units from 110 hp to 140 hp, one Farmall 100 JX, and one JX90 tractor.
The company was also exhibiting its sugar industry-specific range of equipment, including its Austoft 8000 Series of sugar cane harvesters.
Conrad Rautenbach, general manager of African ethanol producer Green Fuel, said, "With a single Case IH sugar harvester we are able to cut approximately 1,000 tonnes per day of green cane."
The Africa Sugar Outlook Conference is Africa's largest sugar event and was co-hosted by the Kenya Sugar Directorate.