Hotraco has announced Antares, the latest addition to their lineup of farm controllers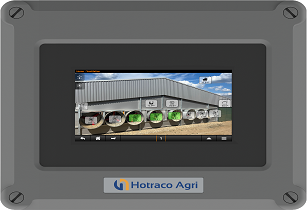 The compact 7-inch device comes packed with an array of features that promise to revolutionise the future of farm management. (Image source: Hotraco)
This compact 7-inch device comes packed with an array of features that promise to revolutionise the future of farm management. From remote control capabilities to extensive connectivity options and robust big data features, Antares is set to redefine how farmers automate and optimise crucial farm processes.
With its user-friendly 7-inch touchscreen and intuitive interface, Antares empowers farmers to bid farewell to manual tasks, ushering in an era of data-driven farm automation. This shift not only minimises operational costs but also unlocks the full genetic potential of animals, ensuring peak performance.
Antares serves as the go-to controller for smart automation across your entire barn. From ventilation and climate control to feeding, watering, animal and silo weighing, and even lighting, Antares has you covered.
The Future Foundation of Your Farm
Discover the game-changing benefits of automation for your farm. Expect reduced costs, decreased labor demands, the elimination of human errors, and increased profits—all while improving the well-being of your animals. Implementing smart control systems and automated components optimises essential processes, from managing feed and water to controlling climate and ventilation. This adaptability is critical in today's world, where genetics continue to advance, and animals require consistently optimal barn conditions to thrive and reach their genetic potential.
Easy and Tailored to You
Antares is designed with simplicity in mind, offering all the functions you need customised for your specific poultry house. As you navigate your farm on the screen, it displays only the most pertinent information at any given moment. Witness your operations come to life and manage them effortlessly through our customisable, user-friendly interface.
Real-Time Farm Insight
Antares goes a step further by providing real-time insight into your farm's conditions. Using photos of your farm processes and live data, it visualises what's happening 24/7. Stay ahead of changing conditions in your poultry house with Antares' lightning-fast 7-inch touchscreen.
Remote Control and Connectivity
Antares seamlessly communicates with your mobile devices running iOS and Android, as well as syncs with PC Farm Management software. With Antares, you receive instant notifications and control, no matter where you are. Stay informed and maintain control, all from the convenience of your smartphone.
Big Data and iHotraco Integration
Antares effortlessly syncs with controllers and components from various brands, offering unparalleled versatility. When combined with iHotraco, it provides a complete, secure, and real-time data set compatible with any third-party dashboard through REST API technology. Prepare to monitor, compare, and optimise your farm's performance like never before.