AkzoNobel has further enhanced its Interpon Redox range of powder coatings with the launch of Redox One Coat, the corrosion prevention solution that delivers all the protection one would expect from the Redox name, but in a single coat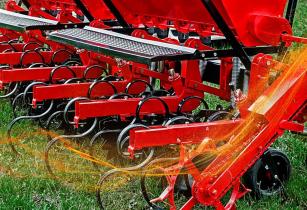 The range is meeting some of the most complex challenges in the market today. (Image source: Interpon)
Easy to apply and no additional requirements to pre-treatment, just a single application of Interpon Redox One Coat offers agricultural and construction equipment metal outdoor furniture, lighting, leisure equipment and steel products protection up to corrosion category C4M (ISO 12944).
Interpon Redox One Coat differs from conventional coating systems which require a primer and topcoat, adding to its sustainability credentials by saving on material usage and energy, and improving productivity without compromising on protection. 
The new powder coating also combines an ideal finish with high weatherability, delivering results that are not only highly functional, but that also look good. As with all products within the Interpon powder coatings portfolio, the range also comes free from Volatile Organic Compounds, solvents or any other potentially harmful components, and produces less waste. 
Jorrit van Rijn, global industrial segment manager of Powder Coatings at AkzoNobel, said the range is meeting some of the most complex challenges in the market today.
"We know that corrosion protection is not a nice to have, it's essential. We also know that you need simple solutions to get the job done. Through our constant innovation and investment in R&D, we've created a solution that does both, and will help you realise savings in time and money without sacrificing anything in quality and performance."