Japanese multinational food packaging machinery manufacturer Ishida has supplied its IX-GA 2475 X-ray inspection system to Volys Star, to ensure high quality and extended shelf life of a range of delicatessen products of Belgium's leading poultry processor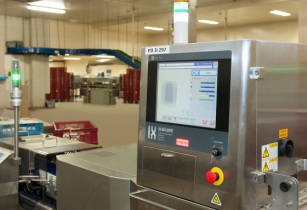 This is essential that the integrity of each pack is assured before the HPP process, where any defect in the seal will cause the packs to open. (Image source: Ishida)
Volys Star produces a variety of chicken and turkey products for the retail, wholesale and foodservice markets. The company's charcuterie range of sliced meats, supplied to leading retailers throughout the world, is packed in modified atmosphere packaging (MAP) or skinpack trays. It is then subjected to High Pressure Pasteurisation (HPP), where the sealed trays are immersed in cold water under high isostatic pressure, giving the packed meats an extended shelf life of up to three months.
Therefore, it is essential that the integrity of each pack is assured before the HPP process, where any defect in the seal will cause the packs to open.
The Ishida X-ray aims to spot product in the seal area and detect any unwanted foreign bodies, in particular, small metal parts. The Ishida system features two separate rejects bins, one for foreign bodies and another for seal defects.
"Clearly to find foreign bodies in the packs is essential, but being able to identify faulty seals before the pasteurisation process is a significant extra benefit, particularly in minimising product waste," explained Filip Bonné, operations manager at Volys Star.
"In terms of alternative technologies, camera systems do not have the ability to see through the packaging. The Ishida X-ray is able to combine these two vital quality checks and significantly, the capability to identify the product in seals is something that some other X-ray systems were unable to do," Bonné added.
One of the advantages of the Ishida IX-GA 2475 is its unique Genetic Algorithm (GA) technology, which aims to enable the system to be 'trained' in the most common types of quality issues that it is looking for, thus increasing its detection capabilities.
"At Volys Star, the IX-GA 2475 checks two different pack sizes, in weights from 80g to 185g, operating well within its capabilities at speeds of around 48 packs per minute. The machine is in use up to 20 hours a day, five days a week," according to Ishida.