Italy-based Nardi Harvesting, producer of all types of combine harvesting headers for corn, sunflower, sorghum-milo, soybeans etc, has launched its service offerings in Africa to help farmers harvesting different crops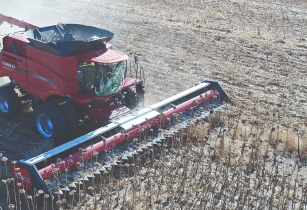 Nardi's headers aim to help African farmers to harvest different crops. (Image source: Nardi Harvesting)
"Africa is going to see an important growth in the agriculture considering vastness of the country, size of lands and extreme weather conditions. The mechanisation is a fundamental and delicate passage."
L Nardi, director of Nardi company, explained, "Knowing that a bearing can stop a combine, couple of trucks and 10 people for days, our goal is to supply reliable technologies to optimize working flow."
Nardi is a brand owned by Pegaso S.r.l., a company located in the north-east of Italy. It is active for 35 years in designing, production and distribution of professional equipment for combines: combine headers and header trailers. The company distributes in Central Europe, East Europe, the USA, Ethiopia, Sudan and South Africa and now is increasing its presence also in the African continent.
Nardi provides farmers with very reliable headers to harvest different crops including corn, sunflower, sesame, chickpeas, sorghum, soybeans and castor oil.
To each farmer its solution
"Nardi developed different technologies based on real farmer's needs like harvesting down crops, reducing time on the field, increasing productivity, transporting different type of heads with a single trailer, using one header to successfully harvest different crops, reducing maintenance costs," said L Nardi. All machines developed by Nardi have a strong structure, long-lifetime and are easy to use and maintain.
Maizestorm is the corn head, it is fast, has a strong built and easy to repair. It works well on down crop and can be equipped to harvest sunflowers.
Sunstorm pans and Sunstorm rows were designed to harvest sunflowers but called them 'sunflower headers' is really reductive. Sunstorm pans is a free row system, it works like a comb and allows you to harvest sunflowers and sorghum in all directions with a high speed up to 15 km/h.
"Are you looking for a multicrop header? Sunstorm rows is an All crop system® specifically designed to harvests sunflower, sesame, chickpeas, soybeans, castor oil and generally all the kind of crops seeded in rows," said the company. "Sunstorm rows is ideal for all those farmers that want a complete product for own crops," it further added.
Nardi also produces trailers to transport headers on the road up to 40Km\h built only with high-quality steel. The company has 10 years of warranty and many options available such as tandem axles for a perfect ground reading, telescopic frames, four steering wheels, high ground clearance and patented system to quickly and safely lock the heads on the trailer's supports.
"Plus our unique design permits to ship them together with our heads to break down shipment costs," noted the director.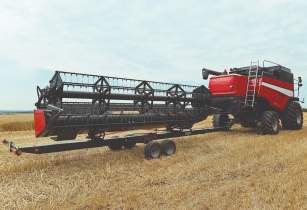 For more information, please visit the company website