LEMKEN is set to introduce a new addition to the family, the little brother of the Juwel 7, 8 and 10 mounted reversible ploughs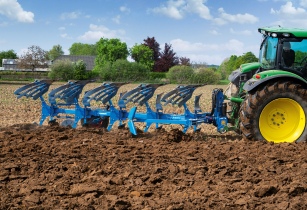 LEMKEN introduces Juwel 6, completes LEMKEN plough range. (Image source: LEMKEN)
Since 25 years, EurOpal and VariOpal 5 and 6 ranges have remained trusted companions for farmers who give great importance to good work results and durability. However, starting from next year, the latest low-draught model will soon be taking their place.
The new Juwel 6 comes with a 110 mm frame box section and an under frame clearance of 80 cm which is available in versions with three to five furrows. The M version offers four different working widths per body which can be adjusted mechanically. The Juwel 6 MV features an infinitely variable hydraulic working width adjustment, with hydraulic frame swiveling being available as an additional option. Integrating it with the iQblue Connect electronics kit transforms it into a smart plough with ISOBUS control, enabling it to be connected to your farm management system. The basic equipment comprises of tried-and-tested dural bodies made from specially hardened steel. With regard to durability, DuraMaxx bodies meet the highest requirements. Mechanical non-stop overload protection is recommended for stony soils. Moreover, like all LEMKEN mounted reversible ploughs, the Optiquick adjustment system for side draught-free work is already on board.
All LEMKEN mounted ploughs are equipped with the new pendulum wheel, the height of which can be adjusted without tools through a series of holes. To ensure material protection and greater working comfort, hydraulic suspension is also connected to the depth wheel. The availability of a simple conversion kit further allows you to upgrade it to a Uni wheel for road transport. The Juwel 6 is mostly ideal for tractors from 70 to 130 hp and will be available for purchase from specialist agricultural machinery dealers from March 2023.