Agricultural technology company, Lucent Bio on November 7 announced that it had secured more than US$3.6mn for the development of their innovative seed treatment technology, Nutreos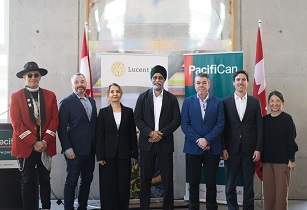 Lucent Bio founders announce US$3.6mn funding with Minister Sajjan and MP Weiler for innovative seed treatment technology. (Image source: Lucent BioSciences)
Being a biodegradable and micro-plastic free seed coating, Nutreos is designed to promote strong germination, vigour, and crop establishment, supporting the transition of traditional agriculture inputs to sustainable alternatives.
The million dollar funding will be provided by the Pacific Economic Development Agency of Canada (PacifiCan) through the Business Scale-up and Productivity programme, earmarked to expedite the development of this technology. As Nutreos transitions from a lab concept to a field-ready product, the investment will expand its market to farmers globally, ensuring that it remains at the forefront of environmentally friendly seed treatment solutions for all producers.
The expansion efforts aim to empower more farmers with a sustainable and effective method for promoting crop establishment and vitality. Following the announcement was the grand opening of Lucent Bio's micronutrient fertiliser plant in Rosetown, Saskatchewan.
"This initiative will enhance food security and climate resilience, making a lasting positive impact on our community and beyond. We're thrilled to be part of this visionary endeavour that aligns perfectly with our mission to pioneer sustainable agriculture solutions," said CEO and founder of Lucent BioSciences, Michael Riedijk.
For more information, visit: www.Lucentbio.com