Moba has unveiled a new and unique patented industrial processing system, Moba EggXtreme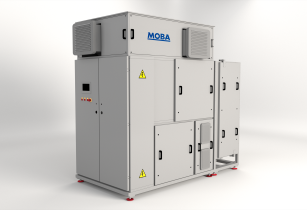 EggXtreme also uses low temperatures to achieve a gentler pasteurisation process. (Image source: Moba)
EggXtreme improves traditional egg processing methods by emphasising the high-quality and freshness of the egg product and reducing the chance of contamination.
Thanks to its new integrated low-temperature Radio Frequency system, EggXtreme is said to be a game changer in egg processing.
This new approach to egg processing ensures that the high-quality and functional properties of the product stay intact during the entire process and protects the product from start to finish.
EggXtreme also uses low temperatures to achieve a gentler pasteurisation process, which ensures that the pasteurised egg stays close to the characteristics of a fresh egg – a significant improvement for egg-based products.
During all stages of egg processing, this patented industrial process system reduces or eliminates the possibility of contamination. At every critical point of the process, from breaking through pasteurisation, Moba has made technological innovations that safeguard the quality and freshness of the egg product.
The new, unique and patented low-temperature process includes the use of Radio Frequency energy, which has the following effects:
-Shielding the organoleptic quality of your eggs
-Longer shelf life
-Longer production runs
-Drastic reduction of cleaning costs.