The new ValoTerra Ultimate which enables precise planting, regardless of work speed, thus fulfilling both farmers and contractors' needs, has been designed to be able to plant seeds from 2-18 km/h, without compromising consistency or depth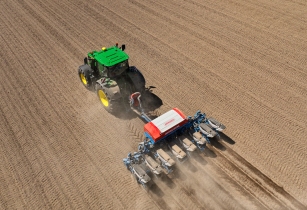 ValoTerra Ultimate is a new technology to serve users, as it answers pressing requests of the market. (Image source: ValoTerra)
When one knows that the adjective ultimus means 'at the uppermost' or 'at the greatest level', it must be acknowledged that this new addition to the range has been aptly named. With the ValoTerra Ultimate' launch, the seed planting world specialist widens the scope of possibilities, as Flavien Cattoni, product manager at Monosem explained, "ValoTerra Ultimate is the new seed planting from the ValoTerra range by Monosem, specifically designed for optimising sowing quality, from 2-18 km/h, whilst freeing farmers from speed constraints!" The first public preview of ValoTerra Ultimate will be held at SIMA in Paris, France.
Far for just being an additional product innovation, ValoTerra Ultimate is a new technology to serve users, as it answers pressing requests of the market: to propose a seed planter for which speed is no longer an issue. To maintain optimum emergence, at high, medium, and low speeds, Monosem has developed the ASG system which adapts to the planting speed and is based on a brush conveyor which guides the seeds to the furrow, at a rate proportionate to the tractor' working speed, thus getting rid of any bumps or vibrations. For optimum emergence, the vacuum-based seed metering system ensures planting precision and versatility.
The metering box is equipped with smooth discs, a patented insert and electric drive, all of which help increase precision at higher speeds. Seeds are then supplied to the patented cellular loading wheel, which inserts each of them in the brush conveyor, thanks to a guiding rods system, and finally to the furrow. Also, to be outlined: the brush conveyor belt that is grooved to ensure optimal alignment, perfect rotation, and minimal wear. During the previous decades, intensified crop rotations have led to a wide variety of species to be planted. The new ValoTerra Ultimate planter offers a unique solution, able to manage small and large seeds, thanks to SmartAccess exclusive system which enables switching from conveyor system to chute system in less than 2 minutes per row.
Crop diversity is also no longer an issue since it just requires a change of disk. Importantly, further to planting optimisation, ValoTerra Ultimate can also spread the exact fertiliser quantity at high speed, thanks to FertiSmart, the new pneumatic fertiliser unit which applies up to 450kg/ha from an eight-row planter at 15 km/h. An additional innovation enables the users to apply nutrition and protection solutions to the seed when planting: MicroSmart ensures highly consistent application at any operating speed and application of 2 products at the same time from two separate hoppers per metering unit.
Furthermore, ValoTerra Ultimate goes along with its times, being managed electrically by a new 56V architecture to unleash its performance potential.