New Holland Agriculture with the support of its local distributor MOENCO has delivered six units of New Holland branded T6080 Cab tractor and two units of New Holland branded TC5.80 combine harvester with 17 ft grain header high capacity and six rows maize header to the German Cooperation "Agricultural Mechanisation and Technology for Smallholder Productivity" (AMTP) and "Green Innovation Centre" (GIC) projects implemented by the Deutsche Gesellschaft für Internationale Zusammenarbeit (GIZ) GmbH in Ethiopia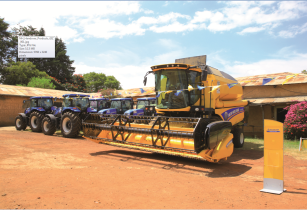 The New Holland products that were handed over to the GIZ projects. (Image source: New Holland)
The products were handed over during a ceremony in the Agricultural Training Centre in Kulumsa, Ethiopia, attended by AMTP senior agricultural expert Dr Tatek Woldu, MOENCO agricultural and industrial equipment sales division manager Alehegn Gebru, New Holland Agriculture Africa business manager Yasin Şeker and New Holland Agriculture Middle East & Africa marketing manager Hakan Dönmezer.
The agricultural sector is considered as one of the major sectors driving growth in Ethiopia. About 80 per cent of the Ethiopian population is active in agriculture and farming is dominated by smallholders. To improve smallholder farmers' productivity and profitability and the performance of the agricultural sector, efficient and timely delivery of inputs to farmers as well as access to mechanisation and technology are important factors. In the Ethiopian Arsi Zone, Oromiya Region, where the two GIZ projects have the objectives to improve smallholder farmers' productivity and profitability through innovations in the farming system, mechanisation service providers offer a range of mechanised field operation to smallholders.
New Holland branded agricultural equipment is used by many small and large scale farmers and aims to act as a fundamental tool of work for farmers to contribute to the productivity of the agricultural sector. New Holland branded T6080 tractor model is a light weight tractor with exceptional power delivery. Rated horsepower on all T6000 RC/PC models automatically increases to meet challenging PTO, hydraulic and transport applications. It is designed to make operation even easier and ideal choice for general farm applications. Comfortable armrest is a significant step forward in terms of operator control. It is simple to use and understand, and all key functions can be quickly and easily accessed.