New Holland Agriculture has introduced three new tractor models at the SARA fair in Cote D'Ivoire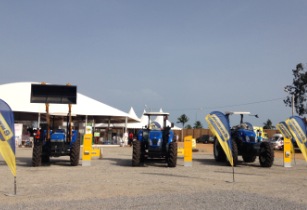 The three new models were put through their paces in the fair's demonstration area. (Image source: New Holland)
The 55 hp TT55, 110 hp TD5.110 and 127 hp T6050 Delta ROPS were put through their paces alongside some of the company's other models at the Agriculture and Animal Resources Fair of Abidjan (SARA)'s demonstration area.
The TT55, the smallest of the three new models, is available in two- and four-wheel drive, with or without two-post ROPS and comes equipped with a one-piece rear hinged hood which the firm said maximises uptime and productivity by allowing for fast, easy repairs and excellent visibility.
The TD5.110 range is not only new to Cote D'Ivoire but the global market, being an entirely new model and comes available with a new 'Powershuttle' transmission for precision loader work.
The T6050 Delta is the most powerful of the new models, with up to 47 per cent torque reserve and a 127 hp engine for difficult terrain.
"We are very pleased with what we achieved at the SARA Fair this year," said Hicham El Mouktafi, New Holland's business manager for North & West Africa.
"It gave us an excellent opportunity to show what New Holland tractors can do for Ivorian farmers and give visibility to our new models that we introduced in the country."