New Holland's new T7.315 tractor was awarded the 'Machine of the Year 2016' title in the L category at the recent Agritechnica 2015 show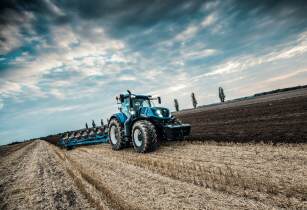 T7.315 can perform a wide range of field and haulage jobs, from row crop work, baling hay or mowing to hauling manure. (Image source: New Holland)
The machine was chosen for the award by a jury of 19 journalists representing leading European agricultural publications, and was rewarded for its technical innovation and the benefits it brings to customers. The selection criteria were based on innovative features, performance, productivity, cost of operation, ease of use and operator comfort.
"We devoted a lot of effort to developing this product: a tractor meeting the specific requests made by our customers. We asked them what they wanted from their 'ideal tractor'. They told us they would like a top-of-the-range T7 with more power that would also be capable of high load jobs usually done by heavier tractors and of taking multi-tasking to a new level," said Sean Lennon, head of tractor and telehandler product management at New Holland.
The T7.315 is one of two new heavy-duty models that extend the T7 series to meet the needs of farming operations that require the power of a large-frame tractor with the versatility and agility of a small-frame machine. The T7.315 can perform a wide range of field and haulage jobs, from row crop work, baling hay or mowing to hauling manure. It also features the IntelliCruise tractor-baler automation that enables New Holland's BigBaler to control the tractor's speed, helping it maximise productivity and bale consistency, making it the ultimate baling tractor.