The Nigerian government is set to kickstart an agricultural mechanisation programme in the country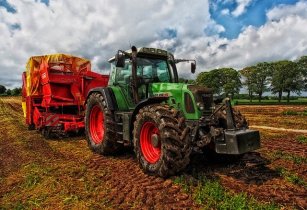 The aim is to ensure food security, job creation and economic growth. (Image source: David Mark/Pixabay)
This has been announced by Muhammad Sabo Nanono, minister of agriculture and rural development.
The agricultural sector contributes 25 per cent of Nigeria's gross domestic product (GDP), accounting for 48 per cent of the labour force. The growth rate over the last five years averaged four per cent, according to the Nigerian Investment Promotion Commission.
However, around 70 per cent of Nigerian farmers are still engaged in subsistence farming, the reason for Nigerian agricultural providing low yields.
Nanono hoped that the situation will change soon with the mechanised programme, which is expected to cover all stages – from production, industrial processing and marketing – ensuring food security, job creation and economic growth.
The programme will have a nationwide spread with all the 632 local government areas (LGA) covered. "Each LGA will have service centres with a brand-new tractor fully equipped. There will also be stores for seeds, fertiliser and excess produce. With these, we will link farmers up with processing industries especially clusters at the local governments."
He, however, pointed out that at the initial stage, around 10,000 tractors can be financed and solicited the help of the private sector to fill in the gap.