The Nigerian government has approved a loan facility of US$1.2bn to finance the mechanisation of agriculture in the country, according to Sabo Nanono, minister of agriculture and rural development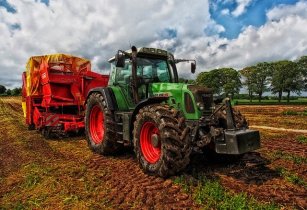 Seven million direct jobs and 20mn indirect jobs are set to be generated. (Image source: 12019/Pixabay)
In what he called a "major revolution in the agriculture sector that we have never seen before," Nanono said that the planned mechanisation would entail the establishment of tractor serving centres in 632 local governments in the country and involve 140 processing plants.
According to him, the loan will be paid off within three to four year.
"This country, in terms of agricultural mechanisation, is at lowest level. We have only about seven tractors per 100 sq km. Kenya has 27 tractors per 100 sq km. In fact, the standard is 127 tractors per 100 sq km. In most developed countries, it is about 1,000 tractors per 100 sq km."
"The key to mechanisation is the establishment of 632 tractor serving centres across the country. These serving centres will constitute tractor hiring skill, IT and admin office and a chemical workshop and store for storing inputs for agriculture and even output arising from agricultural sector."
Nanono said that every tractor will have a tracking system. "Wherever it is working in this country, you will know at your fingertips where it is working and which area it has covered and how much revenue it's getting. And these serving centres are going to be privately owned by the indigenes of those local governments."
"It is imperative for everybody now to key into this programme. It is going to be a competitive bid that will involve selection in terms of experience in agriculture, finance position. So it's going to be a wholly privately owned affair. The loan will be generated by these service centres and will also be in charge of repayment of these loans.""
He further added, "We have estimated 84-92mn ha of land. we are only cultivating about 34 ha even that is not done at optimum level because of lack of mechanisation. We are trying to change that narrative to a more productive and sustainable and where it will affect every part of this country."