Pöttinger has introduced TERRADISC 8001 T and 10001 T, aiming to provide blockage-free incorporation of harvest residues and reliable operation in different operating conditions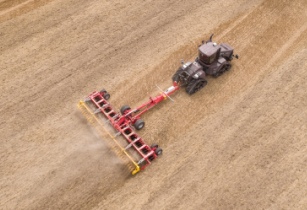 TERRADISC 10001 T. (Image source: Pöttinger)
High reliability in combination with working speeds of up to 18 kph ensures the enormous output of the new TERRADISC, said Pöttinger.
"The compact design, aggressive disc angle and offset configuration of the tools ensure reliable penetration and excellent mixing in of soil and vegetation even in dry conditions," the company added.
TWIN ARM system
Pöttinger has optimised the geometry, size, mounting angle and penetration angle of the discs with an aim to ensure that the discs retain their position and angle. The central and hydraulic working depth setting with jockey wheels (optional on 8001 T, standard on 10001 T) is set to provide low draft, perfect penetration, good ground tracking, tilth and incorporation of harvest trash into the soil.
Soil conservation
The TERRADISC T is raised onto the suspension of the rear roller and its weight is distributed across the whole working width. According to Pöttinger, the TERRADISC T offers the effective working width as specified.
Despite its large working width, the TERRADISC T is compact during transport. The chassis features an integrated folding and transport system for safe road transport with a transport height of four meters and a transport width of three meters. Air brakes or hydraulic brakes are available.
Pöttinger is presenting its innovations including IMPRESS baler and wrapper combination, NOVACAT CROSS FLOW mower combination and the trailed compact disc harrows TERRADISC 8001 T and TERRADISC 10001 T at the SIMA Paris 2019.