Pöttinger has launched Novacat RCB, its latest new roller conditioner, offering the advantages of being more economical, reliable and easier to service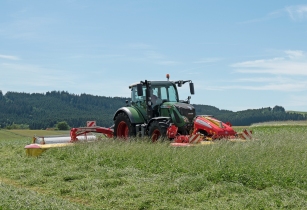 Pöttinger has launched Novacat RCB, its latest new roller conditioner, offering the advantages of being more economical, reliable and easier to service. (Image source: Novacat)
The new roller conditioner, which is available for all Novacat Alpha Motion models as well as the Novacat 262, 302 and 352, is fitted with two toothed belts instead of the usual drive chain. The toothed belts provide double the freedom of movement on the top roller, which translates into an extra 25mm and guarantees optimum conditioning of the forage.
The toothed belts also ensure that the drive system is maintenance-free. The tension of the toothed belts can be conveniently adjusted from the outside. The back tension idler has an automatic lock and can be aligned with the belt using an offset sleeve. Grease is applied to the bearings using an external central greasing point. Oil lubrication is no longer necessary, which considerably reduces the contamination in the drive area. A clean machine makes a significant contribution to clean forage and as a result improves forage quality.
The machine also delivers an optimum drying sequence, thanks to the wide swath placement on rear mower units, which helps greatly in delivering the best possible forage quality. Increased freedom of movement of the top roller increases the clearance for large quantities of forage, which boosts the output of the conditioner and contributes to the cost effectiveness of the machine.