Pöttinger has redesigned its NOVADISC mowers with an aim to provide high cost-effective operations on steep terrain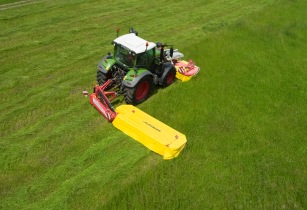 The new NOVADISC rear mowers with side pivot mounting are the lightweights in their class and easily cope with every bump in their path. (Image source: Pöttinger)
Their low power requirement is due to their lightweight construction. These advantages really come into play on steep inclines, rough ground and when mowing embankments.
Due to their low power requirement, NOVADISC models 222, 262, 302 and 352 with working widths between 2.2 and 3.46 m can be operated by small tractors from 40 hp upwards. So, these lightweights are particularly suited to smaller farms in hilly terrain.
The advantages at a glance
The NOVADISC rear mowers feature a new optimised centre of gravity, ensuring safe and compact road transport. During transport, the mower is folded through 102 degrees. This provides a clear view to the rear in both rear-view mirrors. A low transport height is achieved by the hydraulic folding side guard. In addition, the mower can be stowed vertically using the new parking stand to save space.
The NOVADISC rear mowers with side pivot mounting are highly adaptable: The wide + 22/- 30-degree arc of movement enables easy mowing on rough ground and embankments. Mowing up to + 45 degrees by lifting the interlock latch is also possible for short periods.
Due to the adjustable mounting pins, these mowers can be hitched up to the tractor quickly and easily.
The proven lifting system lowers the mower so that the outer end of the cutter bar contacts the ground first. At the headland, the inside end is lifted first, providing optimum protection of the sward.
The mechanical collision safety device, which enables a swing-out angle of approx 12 degrees, protects the machine. The swing-out function prevents damage to the mower in the event of a collision with an obstacle. After it has been triggered, simply reverse the machine a short distance to engage the cutter bar again.
Two suspension springs guarantee the cutter bar applies hardly any pressure to the ground. Weight alleviation is adjustable in three stages without the need for tools. The kinematics ensures that the cutter bar applies the same pressure to the ground over the entire width. The ground pressure can be adapted flexibly to individual operating conditions. Wear and power requirements can be kept to a minimum as a result.
The new NOVADISC rear mowers with side pivot mounting are the lightweights in their class and easily cope with every bump in their path. They mow to provide the basis for the best forage.