Pöttinger has launched the TOP 1403 C with unique hybrid drive technology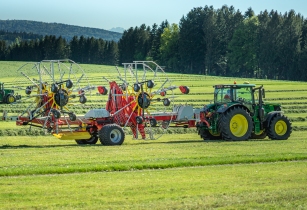 The TOP 1403 C four-rotor rake cuts an impressive figure. (Image source: Pöttinger)
The rake is one of the most important links in the entire harvest chain. Despite the considerable working width, the raking results must still be top-notch. The new TOP 1403 C with a maximum working width of 14.0 m is a new 4-rotor rake in Pöttinger's pro class. A host of new technical details guarantee perfect tracking and gentle raking. The result: high-quality forage and top performances in the stall.
Unique hybrid drive
Like its little brother, the TOP 1252 C, the TOP 1403 C giant rake is fitted with unique hybrid drive technology: the rotors are powered hydraulically at the front, mechanically at the rear. Weight alleviation on the rotor units follows the same principle: it is hydraulic for the two front rotors, mechanical for the rear pair. The degree of weight alleviation adjusts automatically depending on the working width. This means that not only is the sward protected, but less pressure is exerted on the rotor unit. The advantages are less wear and extended maintenance intervals.
New: overlap control
Pöttinger's engineers have come up with another new idea to improve working quality: the TOP 1403 C has automatic overlap control as a standard feature. When cornering, the front inside rotor is automatically pushed inwards according to the angle of the headstock and selected swath width. This ensures overlapping of the rear rotor. When the machinery straightens out again and travels straight ahead, the front rotor is automatically pushed outward.
Whether it's their small machines for alpine terrain or the "big boys", grassland specialist Pöttinger always aims for "best forage". A five-wheel chassis inside the tine arc is standard and guarantees ideal ground tracking. Pöttinger's proven and outstanding MULTITAST wheels ensure that even the tines of the big TOP 1403 C are guided precisely over every undulation, and anti-wrap guards are also fitted. In addition, the tandem axles are adjustable and the rotor inclination can be adjusted precisely to the operating conditions.
For many contractors and large companies the rake is the most important link in the entire harvest chain. Harvesting windows are becoming ever shorter. As a result, the highest possible performance and maximum flexibility are essential: with its maximum working width of 14.0m the TOP 1403 C can rake large areas in next to no time. The hydraulically adjustable working width of 9.0 to 14.0 m provides the flexibility you need to rake smaller areas with great precision, too.
The two front rotors can be hydraulically adjusted either in tandem or separately. This tremendous range of working widths means that the TOP 1403 C is among the most flexible rakes in its class. This also has advantages when obstacles are encountered: the castors allow the working width to be adjusted while the machine is in motion, not just while it is stationary.