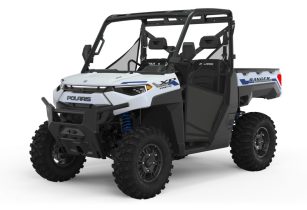 Polaris, a global manufacturer of multi-utility vehicles has unveiled its latest offering, the RANGER XP Kinetic featuring an entirely new electric powertrain born in partnership with Zero Motorcycles
---
RANGER XP Kinetic is available as a three-seat model and will feature a Premium and Ultimate trim. The Premium trim contains a single 14.9 kWh lithium-ion battery that offers an estimated range of 70kms, while the Ultimate trims deliver 29.8 kWh of battery capacity with an estimated range of 130kms.
According to Polaris, an Industry-leading 110 HP and 140lb-ft of instant torque deliver the maximum capability for confidently hauling and towing heavy loads even over tough terrain. Tow capacity is rated to 1134kg with a load haul capacity of 567kgs. RANGER XP Kinetic also features 35.5-centimetres of ground clearance and 25.4-centimetres of suspension travel. The EV is equipped with 74-centimetre, eight-ply Pro Armor X-Terrain tires for maximum traction and durability to crawl over rocks and ruts.
The electric powertrain features fewer moving parts, meaning less maintenance and more uptime. RANGER XP Kinetic has been torture-tested by Polaris in extreme conditions and treacherous terrain and is backed by a one-year factory-installed warranty, three-year electric powertrain coverage and five-year battery coverage. Scheduled maintenance costs are expected to be 70% less than average maintenance costs for similar fuel-powered vehicles.
RANGER XP Kinetic's powertrain motors deliver quiet operation around livestock. The electric powertrain delivers smooth, precise control when operating at low speeds, so customers will have full control and confidence while towing, backing up to a trailer or while spraying.
A 12V cargo box outlet is convenient for powering accessories like sprayers or charging portable batteries. A new shifter design includes high, low, neutral and park, but features a new, integrated switch for forward and reverse so customers change directions with the flip of a switch, making tasks like ploughing fast and efficient.
XP Kinetic comes standard with a combined Level 1 / Level 2 EV charge cord that allows customers to charge from a 120V or 240V outlet. Factory-installed on-board charging rate is three kW for the Premium trim and six kW for the Ultimate trim. Both can reach full charge from 0% in as-fast-as five hours as equipped. With the available accessory onboard charging system, rates can be boosted to six kW for Premium and nine kW for Ultimate for up to 50% faster charge times. A 240V power supply is recommended for the fastest charging and can deliver over 4x faster charging than a standard 120V outlet.