Smith Power Equipment has announced the introduction of the Kubota RA2072, a new double rotor rake that is set to usher in a new era in swathing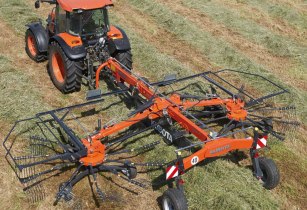 The Kubota RA2072 is expected to arrive in South Africa in February 2022. (Image source: Kubota)
The Kubota RA2072 is designed to group crop into swaths, thus enabling machines such as balers, harvesters or loading wagons to pick-up the crop.
Expected to arrive in South Africa in February 2022, the rotor rake is a significant upgrade of the single rotor counterparts already available locally from Smith Power. Erik Roelofs, international product manager at Smith Power, explained that a major talking point is the maximum working width of 7.2m, which is significantly higher than the 3.5 or 4.3 m offered by the single rotor rakes.
"A single rotor rake can also be used to create big swaths by raking in both driving directions. where this method is preferred. However, good driving skills are required to form constant swaths," said Roelofs. "With a double rotor rake such as the Kubota RA2072, constant swathing is easier to achieve and the driver only needs to look at the total working width of the rake. Constant swathing reduces the risk of blockage of the following harvesting machine and contributes to a constant bale-shape."
The double rotor rake uses two rotors to group the crop. The rotors are designed to turn in opposite direction, forming a swath between the two rotors. The width of the swath can be set before unfolding the machine.
The new Kubota RA2072 is:
• Maintenance-friendly rotorhead – filled with oil, critical parts constantly lubricated and just three grease points.
• Clean raking – tines with a forward bended lower part.
• High capacity and optimal swath shape - bent tine arms.
• Optimal ground following – tandem axles as standard in Smith Power spec and TerraLink open arm construction.
• Compact in transport and storage - detachable tine arms.
"As the RA2072 has its own carrier frame and wheels, the load on the tractor is relatively low. Therefore, a customer can reach great raking output with a small tractor from 60 hp upwards. For a perfect following of the rake, the big transport wheels are steered. The rotors can be raised and lowered on the headland with just one double acting valve," added Roelofs.