Case IH has chosen Sosucam for its Cameroon sugar cane plantations in a bid to drive growth in Africa's sugar cane sector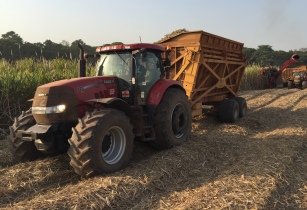 The AutoTracker helps to reduce cane losses. (Image source: Case IH)
Case IH contributes to 70 per cent of the employment in Africa, with the firm producing a total of 350,000 tonnes of sugar every year.
"The PUMA 225 CVT tractors and the Austoft Sugar Cane Harvester just met all the requirements we needed for our farming project," said Arnaud Marrier d'Unienville, technical director of Agricultural Machinery for Sosucam.
"The Austoft 8800 Sugar Cane Harvester has all the technical requirements to meet our new farming system project with dual rows, controlled traffic, yield measurements and losses reduction," the director continued.
The productivity and the quality of the harvest are important at Sosucam's, along with the maestro control and the AutoTracker, the company said.
The factory-fitted AutoTracker helps to reduce cane losses, while cane stalks are cut at ground level, and the base cutter height is either administered by the operator or automatically by the AutoTracker which features two rotating discs with five blades each.