The weighing, packing and quality control equipment exhibited by Ishida at Propak Africa 2016 demonstrates the company's ability to devise packing line solutions for a wide variety of food applications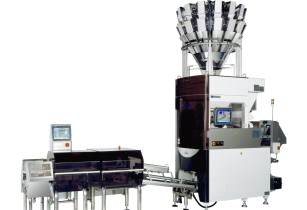 The iTPS is a high-performance entry-level multihead weigher for dry food products. (Image source: Ishida)
Highlights include the company's pioneering Integrated Total Packaging System (iTPS) for snacks products; a high performance entry-level multihead weigher for dry food products; a weighing solution specifically developed for granular products; a compact semi-automatic tray sealer; and an advanced X-ray inspection system.
Ishida's IX-GA-4075 high performance X-ray inspection system can reliably detect even tiny amounts of foreign bodies down to 0.3mm in size, including bone, stones, glass and metals such as iron and stainless steel as well as dense plastics. The machine features Ishida's Genetic Algorithm (GA) technology, which enables operators to 'train' the X-ray system for greater sensitivity to specific contaminants.
In addition, the place of contamination can be accurately pinpointed. As part of its enhanced quality control function, the IX-GA-4075 can also spot missing, undersized and mis-shaped items or damaged products, and carry out weight estimation and grading by length.
The Ishida QX-300 Flex semi-automatic tray sealer offers a reliable, hygienic and compact tray sealing solution which is ideal for small production runs, special tray sizes as well as for growing businesses that want to introduce top-sealed trays into their portfolio.
The QX-300 Flex has been designed for maximum flexibility, with simple controls for fast set up, and quick release features for fast changeovers of films and sealing tools.
High sealing pressure combined with precise control of sealing time and temperature ensure the highest seal integrity for optimum shelf life and pack presentation. The tray sealer is available for seal only, Modified Atmosphere Packaging (MAP), skinpack and shrink film applications.
Demonstrating Ishida's ability to develop weighers for special applications, the Ishida Cut-Gate weigher for granular products incorporates a servomotor-powered gate that delivers a gentle but precise opening and closing profile to offer accuracy levels of typically +-4g for 1kg target weights while the gentle handling operation mode preserves particle size and structure. A dust enclosure minimises dust emissions.
The 14 head Ishida CCW-SE-214 multihead weigher offers fast and accurate weighing of all types of dry applications such as snacks, confectionery, biscuits and pasta with a top speed of up to 90 packs per minute. Combining improved productivity and efficiency with minimal downtime for cleaning and maintenance, the weigher offers a rapid return on investment.
Ishida's innovative iTPS software supports the integrated operation of an Ishida multihead weigher, bagmaker and checkweigher to provide a complete snacks packing solution. Ishida's system on show at Propak Africa features an CCW-RV-214 multihead weigher and Atlas-124 bagmaker, offering speeds of up to 200 packs per minute for extruded snack and up to 150 packs per minute for potato chips and corn snacks.