Volvo has continued to make headway into the agricultural sector after a deal with Belgian firm AVR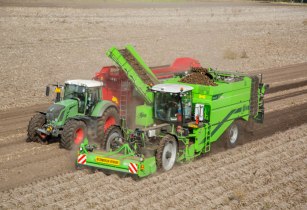 The 23.5 tonnes Puma 3 bunker harvesters are now powered by Penta engines. (Image source: Volvo Penta)
The 165-year-old manufacturer of potato farming equipment announced it was now using Volvo Penta engines in its potato harvesters.
The Stage IV/Tier 4 Final D13 engines were apparently chosen to power the 23.5 tonnes self-propelled four-row Puma 3 bunker harvesters because of their compact nature.
"Compared to the other engines we looked at, Volvo Penta was the easiest to install — it's plug and play," said Steven Paesschesoone, R&D director at AVR. "But it's also the simplest system and takes up the least space. Size and simplicity were our greatest concerns, and Volvo Penta met our needs."
Volvo said the compact nature of their Penta engine was derived from its use of selective catalytic reduction (SCR) technology to reach Stage IV.
The Swedish automotive manufacturer claimed SCR was a "far more straightforward, easy to install, compact system" than the diesel particulate filters (DPFs) and/or a diesel oxidation catalysts (DOCs) used by some of its competitors.