Irrigation in Africa is witnessing a transformation as companies are coming up with alternatives to traditional irrigational systems.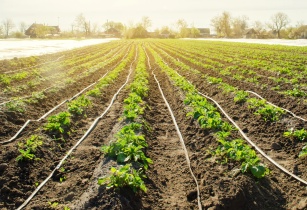 Trends predict that the African agricultural irrigation machinery market will see growth in the next few years. (Image source: Adobe Stock)
InfraCo Africa and Bonergie Irrigation have signed new agreements to continue scaling up access to solar-powered irrigation solutions in Senegal. Aptech Africa is also working on a solar-powered system at Njala University, which includes a drip-irrigation system too. Following a successful pilot project, InfraCo Africa and Bonergie Irrigation will roll out over 500 drip irrigation systems, which are designed to optimise the efficiency of irrigation while protecting groundwater sources from over-abstraction. "InfraCo Africa's experience will help us in supplying a minimum of 2,000 pumps and 500 drip irrigation systems to rural farmers in a sustainable way," Gabriele Schwarz, CEO of Bonergie Irrigation SAS told ESI Africa.
The irrigation system set up by Aptech Africa uses solar power to pump water from a borehole to a reservoir tank and outlet water filter. The system uses gravity-fed drip irrigation. The system is fitted in a 100m x 50m greenhouse, as well as 1ha of farm land that is divided into 10 plots, each with a set of terminal driplines. The University has a School of Agriculture which is focused on teaching best agriculture techniques such as solar water pumping for irrigation.
In Niger, drip irrigation has helped female farmers in more ways than one. Netafim has trained tens of thousands of farmers, including women, to use its products effectively, enabling farmers to reduce waste and increase their incomes. The company is working with the International Financial Corporation, to bring microcredit and drip irrigation systems and training programmes to these farmers. Another example of an innovation in the irrigation industry is Responsive Drip Irrigation Growstream. When crops and plants need water and nutrients, they emit root exudates that allow them to consume what they need from the surrounding soil. The RDI system responds and interacts with these root exudates, allowing water and nutrients to be released out of the billions of 'smart micropores' in the tubing. The system provides a slow-release delivery of water flow that matches the roots' absorption capacity. When the plant is satisfied, it stops producing root exudates and GrowStream stops releasing water.
Meanwhile, Ouagadougou, the capital of Burkina Faso, has launched a vast programme to promote micro-irrigation, with some 2,000ha already developed with this cultivation technique. This method aims to bring water to the foot of the plant, which is usually drip-fed, through a surface or underground distribution network, avoiding evaporation as much as possible. Netafim is deploying this technology in Niger. The US non-governmental organisation IDE, which has supported initiatives in Burkina Faso, has more recently conducted trials in Gambia and South Africa.
The Food and Agriculture Organisation (FAO) of the United Nations has provided US$350,000 in technical support for irrigation farming in Nigeria. The project, which will be implemented until December 2022, concerns Niger State in particular. Minister of Water Resources, Suleiman Adamu told reporters, "The project will identify and replace flood irrigation systems with water and electricity efficient drip irrigation systems."
Trends predict that the African Agricultural Irrigation Machinery Market is about to see a fair share of growth in the next few years. Mordor Intelligence reports suggest that is estimated to grow at a CAGR of 7.45% during 2020-2025.
Drip irrigation is the most efficient water delivery system for crops and is particularly useful in sub-Saharan Africa, where water deficit is the most important factor limiting yields in agriculture. It delivers water and nutrients directly to the plant's roots zone, in the right amounts and at the right time. Thanks to drip irrigation, farmers can produce higher yields while saving on water as well as fertilisers, energy and even crop protection products. However, it also leads to minor issues like clogging. If not maintained, the drip line holes can prevent the flow of water. Some other problems are the need for installation and routine check of the drip lines.