Political leaders at the fifth annual EAT Stockholm Food Forum called for greater efforts to tackle issues plaguing the global food system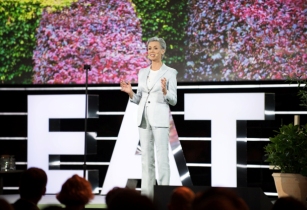 Speakers at the event said we need to steer the planet in a new direction with the health of the planet at the center. (Image source: EAT)
"We need nothing less than a revolution," said Isabella Lövin, Sweden's deputy prime minister and minister for international development cooperation and climate, in her opening speech.
"We need to steer our planet in a new direction and a new development paradigm that has the health of the planet and its inhabitants center," Lövin, said.
"Until now, we've had no goals, facts or narrative for the food system as a whole, to promote the health of both people and the planet. To move forward, we must define a unifying factual baseline for food," said Gunhild A. Stordalen, the executive chair and founder of EAT.
Christiana Figueres, the convenor of Mission 2020, highlighted the poor progress in meeting climate goals for land use and food systems.
"We won't meet the 2020 goals for these areas. That is a huge concern," said Figueres, who oversaw the 2015 Paris Agreement on climate.
However, Figueres said she was encouraged by the increasing attention the world is paying to food system and land use issues.
"This whole topic has finally matured to the point where it is front and center. That is a huge opportunity that we can't afford to miss," Figueres added.
The EAT Stockholm Food Forum, attended by more than 600 delegates from more than 60 countries, is being held at the Quality Hotel Globe in Stockholm on 11-12 June.