The World Bank recently approved a US$70mn International Development Association (IDA) grant to develop resilient water, agriculture, and environmental services for rural communities in Somalia's drylands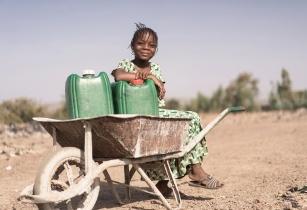 The Barwaaqo project supports communities to build resilience and adapt to climate change. (Image source: Adobe Stock)
The Somalia Water for Rural Resilience Project named 'Barwaaqo' comes at a critical time when Somalia is facing an unprecedented multi-season drought and worsening food insecurity. The Barwaaqo project will expand services in Somaliland, Puntland, Galmudug, and the south west states while expanding to include two additional federal member states namely, Hirshabelle and Jubbaland, where the project will focus on the areas situated away from the floodplains of the Shabelle and Jubba rivers.
"The Barwaaqo project supports communities to build resilience and adapt to climate change by improving access to water resources in a dryland environment," said Kristina Svensson, World Bank country manager for Somalia. "To increase the sustainability of investments, the Barwaaqo project will integrate climate change adaptation and mitigation measures which will support the strengthening of natural resources management. This includes water harvesting and storage, soil conservation, afforestation, and rangelands restoration around water points to slowly 'green' the drylands," said Chantal Richey, World Bank senior water supply and sanitation specialist.
Opportunities also exist within the Barwaaqo project to deploy low-cost, small-scale water harvesting and storage technologies. For example, sand dams can protect communities, livestock, and crops from flash floods, while also promoting water storage. These, combined with soil improvement techniques, can reduce run-off and erosion, promote infiltration, reduce evaporation losses, and contribute towards restoring the soil. This will promote sustainable use of natural resources which will improve the availability of water for longer periods, thus reducing water-related displacement and reducing the drivers of resource-based conflicts.