The United States Agency for International Development (USAID) has announced a US$32.4mn five-year project, 'Resilient Waters,' to address severe water challenges facing the Limpopo River Basin and Okavango River Basin communities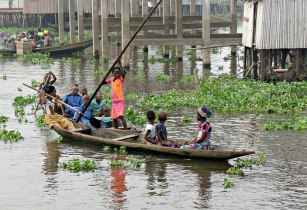 USAID's water project will provide access for safe drinking water to about 21mn people across Africa. (Image source: Linda De Volder/ Flickr)
Resilient Waters will increase access to safe drinking water and sanitation services for about 21mn people in South Africa, Botswana, Zimbabwe, Mozambique, Angola and Namibia.
This project is expected to improve management of transboundary natural resources and strengthen ecological infrastructure needed to maintain healthy water systems.
Stephanie Funk, mission director at USAID Zimbabwe, stated, "By conserving one of Zimbabwe's most important natural resources, USAID's Resilient Waters project will protect health and livelihoods and make communities more resilient in the face of climate change."
In Zimbabwe, the Limpopo River and its tributaries carry water to more than 800,000 people who depend on its consistent supply for their health and livelihoods.The river runs through a semi-arid region that is particularly vulnerable to climatic events, including the devastating 2015-2017 El Niño-induced drought.
Resilient Waters will work with local communities to improve water management and increase access to safe drinking water and sanitation services along the Limpopo River Basin and within its catchment areas such as Matobo Hills.
This follows the US government's Global Water Strategy, which supports efforts to create a water-secure world where communities can be resilient, retain this essential resource and foster healthy lives.