Water and Energy for Food Grand Challenge (WE4F) Southern and Central Africa Regional Innovation Hub (S/CA RIH) has launched its first Call for Innovations, open to enterprises, non-profits and academic organisations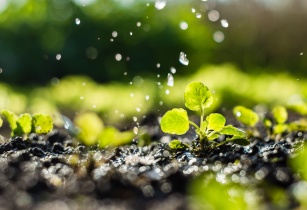 Innovations that consider the nexus of water, food and energy, are particularly encouraged to apply. (Image source: Adobe Stock)
Applicants should have a water-food, energy-food, or water-energy-food solution that can help smallholder farmers sustainably grow more food while using fewer resources.
This call will support up to 30 organisations working on innovative technologies and business model solutions to provide more sustainable water or energy solutions for climate-resilient agriculture. The selected ones will receive customised support in the form of technical assistance, investment facilitation, enabling ecosystem support, and grants up to US$200,000 to scale their businesses, combat resource scarcity, and foster the transition to sustainable, climate-resilient agricultural sectors.
Water scarcity, environmental degradation and biodiversity loss, climate change, and poverty all threaten the region's long-term food security and resilience. Tackling issues related to water, energy, and food is imperative to overcoming these barriers and achieving greater stability. Together with investors and partners, the S/CA RIH supports organisations with innovative solutions to produce more food while using less water and more sustainable energy sources in a socially inclusive manner. Innovations that consider the nexus of water, food and energy, are particularly encouraged to apply.
In addition to funding organisations, the S/CA RIH helps them grow through technical assistance, investment facilitation, and improvement of the business and policy environment. Through this support, the hub enables organisations to scale their impact by enabling smallholder farmers in the region, particularly women to produce more food, increase their profits while strengthening their resilience to climate change.
The inaugural S/CA Call for Innovations closes on 4 January, 2022. Winners will be announced in May 2022. Those interested in applying, please visit www.we4f.org for more information.
WE4F is a joint international initiative of the German Federal Ministry for Economic Cooperation and Development (BMZ), the European Union (EU), the Ministry of Foreign Affairs of the Government of the Netherlands, Sweden through the Swedish International Development Cooperation Agency (Sida), and the US Agency for International Development (USAID).