AfDB's Annual Development Effectiveness Review 2017 (ADER) has manifested that around 5.6mn people in Africa have benefitted from the bank's policy in upgrading Africa's agriculture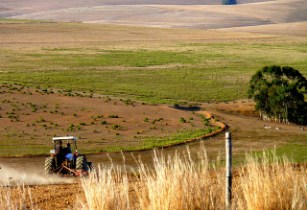 Investment in African agriculture can generate inclusive and sustainable growth for the country. (Image source: Christopher Griner/Flickr)
The 2017 ADER entitled "Transforming Africa – Unlocking Agriculture's Potential," was released on 24 May 2017, at the AfDB's annual meeting in Ahmedabad in India.
In line with the AfDB's 'High 5' priority areas for Africa, the ADER outlined the bank's role in recent economic development in Africa and the opportunities and challenges that Africa will face in coming years.
ADER described that AfDB met its target in assisting 597,900 people to increase the use of technology in agriculture.
In Nigeria, AfDB trained and provided 733 people with irrigation pumps and agricultural equipment, along with building 520km of feeder roads and providing farmers with access to 2,300 tonnes of inputs. Also, AfDB supported in improving water management in 37,600 ha in Nigeria.
In Gambia, AfDB improved land and water management practices for more than 68,400 people by reducing soil erosion, controlling salinity and increasing rice yields. It also increased the yields of a wide range of crops through an agricultural research networks, benefiting an estimated 698,000 farmers.
AfDB also provided better access to transport services to seven million people, by constructing and rehabilitating 2,200km of road in 2016, with directly delivering 1.6mn jobs in the continent.
Akinwumi Adesina, the president of AfDB, highlighted how the bank is improving the lives and livelihoods of Africans in agriculture, helping women to get better access to land, finance and technology, and young people to get secure and sustainable jobs in agriculture-related industries.
He said, "Agriculture is already central to the lives of Africans, providing 60 per cent of jobs across the continent."
ADER discussed that AfDB will continue to prioritise regional infrastructure investment and the development of soft infrastructure, including institutional capacity, trade facilitation and financial infrastructure in Africa.
In addition, the ADER discussed the role of AfDB to support Africa in achieving the inclusive and sustainable development complementary to the bank's ten year strategy.