Innovative drying techniques are among the several new initiatives helping to boost the quality and sustainability of South African raisins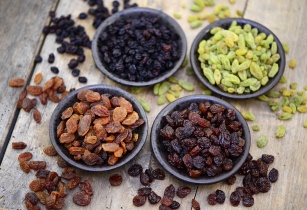 Growers in South Africa have begun using innovative drying techniques to enhance the quality of raisins (Image Source: Adobe Stock)
Growers in South Africa have begun using a net-drying process, whereby raisin grapes are sun-dried on elevated nets. The approach allows for natural wind to circulate around the fruit, with any rainfall being irrigated through the net to prevent damage.
The raisins are also dried on 19 mm stone courses, ensuring the product is not damaged during heavy rainfall. In the Orange River region, drying racks are used to prevent the sultanas from being exposed to direct sunlight, resulting in their distinctive light amber colour. Normally processed gold sultanas also gain their famous golden colour from the same approach.
Compulsory audits are also being carried out to ensure that the new drying facilities meet the requisite food safety and quality standards. Such techniques are ideal in South Africa, where pest and disease pressure are lower due to the hot, dry climate. Moreover, with growers adopting good biological practices and control, fewer chemicals are needed. Water for the fruit is sourced from the Orange and Olifants Rivers, and while micro, drip and flood irrigation techniques are used; strict governance also requires all farms to adhere to water rights limitations.
"All these techniques aim to protect the environment, public health, and human communities, as well as ensure complete traceability. That begins with the grower, and all producers must register their farm at the Department of Agriculture. The certified number they receive is then used for traceability throughout the entire process, and no product can be supplied without this number," explained Ferdie Botha, chief executive of industry body, Raisins SA.
Growers are being supported by both agricultural advisers and experts from their packers and Raisins SA. In addition to this, there has been a special focus on new cultivars and adopting a science-based approach to improve yields and quality. The sector is further backed by the table grape industry, ensuring a collaborative approach to innovation and growth.
Meanwhile, wider social and environmental initiatives are underscoring the latest innovations in farming practices. Raisins SA is currently running a project whereby emerging female farmers are being helped to work on the construction of their own drying facilities while also being trained on how to properly prepare the land prior to vineyard planting. They are also being taught about the latest fertiliser programmes and vine pruning techniques.
It all helps at a time when UK consumers are demanding high-quality and affordable fresh produce. "UK buyers are becoming more interested in South Africa due to the quality of our growers' fruit and the control they have over their agronomy, but it also comes down to price," concluded Botha. "South Africa, as a source, ticks all of these boxes."