Kenya's Agricultural Finance Corporation (AFC) has released US$ 9.4mn to buy livestock animals from drought-stricken farmers in 22 counties across Kenya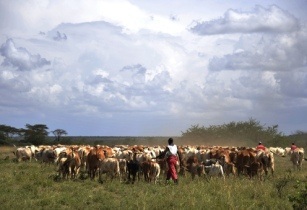 The AFC will buy livestock animals from drought-stricken farmers in Kenya. (Image source: USAID Kenya)
Funding will be channelled through the Ministry of Agriculture, Livestock and Fisheries which plans to procure 40,000 cattle goats and sheep currently affected by drought.
The Kenya Meat Commission (KMC) has been allocated US$ 2.35mn to buy animals directly from farmers, with the firm expected to increase its meat stock from this destocking programme.
AFC has also received US$2.35mn and will add a similar amount under the Emergency Livestock Off-Take programme to lend to ranchers and livestock traders at an interest rate of 7.5 per cent.
"We plan to advance soft loans to ranchers and livestock traders as part shielding farmers against total loss of animals and finance," agriculture cabinet secretary Felix Kosgei said.
The destocking programme will continue until new pastures emerge when farmers can restock their herds, Kosegi added.
Among the drought affected counties include Garissa, Machakos, Mwingi Tharaka-Nithi, West Pokot, Kajiado, Kilifi, Narok and Tana River.
The programme comes at a time when more than two million Kenyans are affected by drought, which has also led to a deficit of 10mn bags.

Mwangi Mumero