The African Development Bank (AfDB) has partnered with SERUKA, a women's organisation in Rwanda, to launch Rwanda Honey Value Chain Project, which aims to boost honey production in Rwanda and enhance the capacity of honey production cooperatives to access formal markets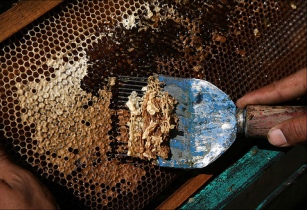 In association with Rwanda Governance Board, Rwanda Agriculture Board and Rulindo District Assembly, AfDB aims to build an effective honey value chain in the country. (Image source: Hashoo Foundation USA/Flickr)
AfDB, through Africa Trade Fund (AfTRA), has granted US$343,000 to SERUKA, which is supporting grassroot economic empowerment initiatives in Rwanda.
As per the partnership programme, SERUKA will support the honey production cooperatives with equipment to improve production, scientific training in honey production in accordance with Apiary code and basic business skills.
SERUKA will also facilitate linkage between the honey collection centres in Rwanda and establish retail chains as well as honey processors and exporters.
Rwanda Honey Value Chain Project targets 1,000 beneficiaries in Rulindo District, where 80 per cent are women.
"Agriculture is one of the sectors identified by the Rwandan Government to drive growth. In line with this, the Rwanda Agriculture Board is promoting the apiary sub-sector – including bee and bee products, and silkworm production under the category of commercial insects," said Halima Hashi, principal country program officer at AfDB's country office in Rwanda.
The project will rehabilitate the Murambi Honey Collection Centre to meet certification requirements of the Rwanda Standards Board, and provide candle-making equipment to enable Murambi Honey Collection Centre add value to the by-products.
"The project is going to boost our incomes as beekeepers in the region as we will have increased production of honey," said Rwabuhungu Venant, president of the Murambi Honey Collections Centre.
"It will also equip us to bypass intermediaries and interact directly with the external market in addition to enabling us to produce multiple other honey-based products such as candles and wax," added Venant.
This project complements AfDB's 'High 5' priority areas for Africa, particularly 'Feed Africa', which focus on upgrading Africa's agriculture to improve the lives of African people.