Case IH Sugar Camp 2017 held in Brazil gave its African and the Middle Eastern customers the opportunity to see world-class harvesters and manufacturing plants and to witness sugarcane's growing importance as a renewable energy source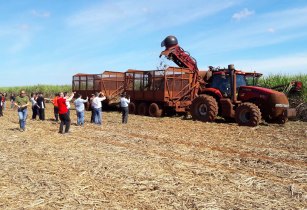 Delegates at Case IH Sugar Camp 2017 in Brazil. (Image source: Case IH)
Case IH had organised the six-day trip to South America Sugarcane producers to give its customers from Africa and the Middle East an insider's view of the latest harvesting methods and equipment being employed in Brazil, the largest sugarcane producer in the world.
The Sugar Camp was designed to share examples of industry best practice and to show Case IH's impressive global operations. Following the successful 2016 Sugar Camp in Australia, this year's event featured an 800-kilometre tour around the State of São Paulo and the Centre South district of Brazil which is responsible for 90 per cent of the country's sugar output. Sugar Camp participants visited two Case IH manufacturing plants, a parts-and-distribution centre, an agricultural equipment dealer, a major sugar and ethanol producer, and a research and development institution.
Sugar Camp 2017 received nearly 30 delegates in the sugarcane business from ten countries in the Africa-Middle East commercial area, starting with a workshop session at Case IH's plant in Sorocaba. This 104,000 sq m factory with annual production capacity of 8000 units was modernised in 2009 in alignment with CNH Industrial's World Class Manufacturing (WCM) system. Here Sugar Camp guests were shown Case IH's latest-generation manufacturing equipment, including laser-plate-cutting machines with automatic feeders, robotized welding stations, aerial conveyors for parts and components, and a state-of-the-art painting system.
At Sorocaba, Sugar Camp participants were also givne a tour of CNH's 56,000 sq m Logistics and Parts Distribution Centre (PDC), the company's largest in Latin America and its worldwide master depot for sugarcane harvester parts. This has an inventory of more than 150,000 different parts and some of the most modern moving and packing equipment in the world.
Sugar Camp's final destination was the Instituto Agronômico (IAC) in Campinas, a city northwest of São Paulo noted for its research centres and universities. Here the innovative Brazilian Pró-Álcool Programme was developed, using sugarcane to produce ethanol as a fuel for motor vehicles. Brazil is now the world's largest sugarcane ethanol producer, with the alcohol-based fuel replacing more than 40 per cent of the country's gasoline needs and providing 17 per cent of the country's total energy supply.