The African Development Bank will continue its support for an environmental initiative to protect the shrinking Lake Chad, a source of water to millions of people in central and West Africa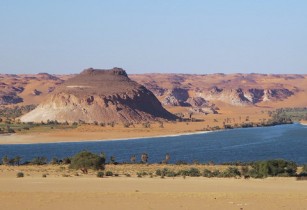 AfDB's decision to continue its support for Lake Chad Basin Heritage can be a positive move in the long run. (Image source: David Stanley/ Flickr)
In the past decade, the Bank has invested more than US$160mn through regional projects aimed at fighting the ecological and humanitarian crises in the Lake Chad region.
The UNESCO Biosphere and Heritage of Lake Chad (BIOPALT) project, funded by the bank, is a multi-disciplinary project, linked to the UN Sustainable Development Goals (SDGs).
Addressing participants at the meeting, Flavia Schlegel, UNESCO's assistant director, described it as a platform for governments, UN agencies, civil society and academia to reflect on the relevance of adopting a multi-sectoral response to solving the region's humanitarian and ecological crisis.
Dore, who represented the Bank at the meeting, reiterated its commitment to work closely with the five member countries' governments to restore and rehabilitate degraded ecosystems, improve the livelihoods of the communities and bring back lasting peace in the region.
The three year BIOPALT project is financed by the AfDB to the amount of US$6,456,000 and is implemented via a multi-sectoral approach involving UNESCO's sectors at headquarters and in the field.
Other country representatives at the meeting shared their perspectives on regional challenges and the value of the bank's programme.
The UN secretary-general's special advisor for the Sahel, Ibrahim Thiaw, said that the lake's shrinkage had led to loss of livelihoods and despair for millions of young people. He described that the bank's interventions and BIOPALT as "a wonderful natural resource planning and management tool that aims to address the deeper causes of the crisis."