Africa Development Bank (AfDB) president Akinwumi Adeshina has announced that the bank has earmarked US$12.5bn for the training of the next generation of agriculture entrepreneurs (agripreneurs) in Nigeria and 24 other African countries before 2025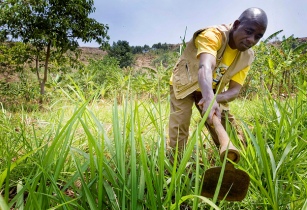 The enterprise has potential to create up to five million jobs, Adeshina said. (Image Source: Department of Foreign Affairs and Trade/Flickr)
The initiative is part of AfDB's Empowering Novel Agric-Business-Led Employment for Youth in African Agriculture (ENABLED Youth) and is aimed at promoting youth entrepreneurship in agriculture and agro-business. Under this project, US$12.5bn will be disbursed to 10,000 youths in each country.
Adeshina said, "Under the programme, AfDB will train the next generation of agriculture entrepreneurs, also referred to as 'agripreneurs'. The investment required under the ENABLE Youth programme to provide 10,000 youth agribusinesses per country is US$500,000mn translating to about US$12.5bn in 25 countries."
He said if each enterprise creates five additional employees, this will amount to a minimum of 2.5mn and up to five million jobs created within the period. Governments in the continents can develop agro-business can do this by developing agro-allied industrial zones and staple crop processing zones in rural areas, he added.
"The zones, supported with consolidated infrastructure, including roads, water, electricity, will drive down the cost of doing business for private food and agribusiness firms," he said.
He said that such zones will create markets for farmers, boosting economic opportunities in rural areas, stimulating jobs and attracting higher domestic and foreign investments into the rural areas, adding that they will turn the rural areas into zones of economic prosperity.
The AfDB bank chief also said that 'Feed Africa', one of the bank's priorities, aims to transform African agriculture into a globally competitive, inclusive and business-oriented sector that creates wealth, generates gainful employment, improves quality of life and secures the environment. Eight of the priority investment areas under this strategy are rice self-sufficiency, cassava intensification, food security in the Sahel, transformation of the savannah, revitalisation of tree plantation, promotion of horticulture, wheat in Africa and fish self-sufficiency.