The Kenyan government has confirmed that head smut disease has affected maize in at least four counties in the North Rift region of Kenya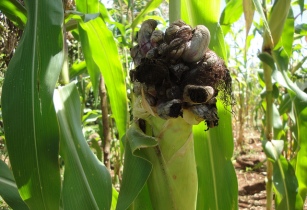 The disease causes masses of black puffed up galls on the cobs and tassels containing millions of spores that spread the disease over long distance as they become airborne. (Image source: International Maize and Wheat Improvement Center/Flickr)
The statement was made after an investigation by officials from the Ministry of Agriculture, Kenya Agricultural and Livestock Research Organisation (KALRO), Kenya Plant Health Inspectorate Service, (KEPHIS) and Kenya Seed Company. The affected counties include Nandi, ElgeyoMarakwet, Trans Nzoia and Uasin Gishu.
"The team conducted thorough surveys and investigations of the problem and unanimously identified it as head smut of maize. Investigations further revealed that all varieties of maize were affected," agriculture principal secretary Richard Lesiyampe said in statement.
Head smut is a fungal disease that affects cereal crops including maize, sorghum and grasses. Infection by smut fungi starts in the soil and the fungi grow through the plant during the season.
The investigation also revealed that the disease was prevalent in the fields that were exposed to crop stress, which includes poor nutrient levels, weeds and moisture. Farmers who had rouging in the previous season and left the diseased materials on the ground or fed it to livestock had 90 per cent of their current crop affected.
The fungal attack follows repeated outbreak of maize lethal necrosis (MLN) disease that ravaged parts of the country last season, forcing some farmers to uproot the crop. The recurrence of MLN disease and attack of the crop by head smut is a serious challenge to maize cultivation.
Farmers have been asked to implement crop rotation to break the cycle of the disease. Deep ploughing and burning of infected plants are other recommended measures. Experts have also advised against feeding the plants to cattle as the fungus that cannot be digested is passed out through dung and later reproduces posing threat to crops again.