Africa's leading commodities player, AFEX, unveiled its 2023 Crop Production report in a hybrid event hosted at its Abuja office on 16 November 2023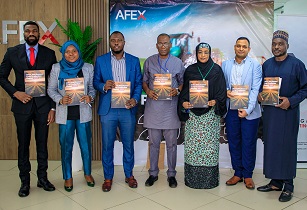 The report will aid the understanding of the current food system while providing stakeholders with intel to make data-driven trading decisions in the coming season. (Image source: AFEX)
The report, which delivers insights on six key commodities namely, maize, paddy rice, soybean, sorghum, cocoa, and sesame leverages farmer surveys and measurement of transaction-level data to track vital information across crop production, price performance, and market dynamics. Besides aiding the understanding of the current food system, the report will provide stakeholders in the commodities market with intel to make data-driven trading decisions in the coming season.
The report highlights a critical improvement in access to farmland for cultivation in crucial areas. Compared to the previous season, an increase in usage of improved inputs, such as high-yielding seeds and fertilisers was observed, resulting in maize and paddy rice being forecasted to have a significantly higher production this season. However, input lending remains a major challenge today, with agriculture making up only 6.16% of bank lending in 2022.
On pricing, the report forecasts an increase in prices for all commodities on the basis of a general decline in production coupled with increasing demand across processing and exports. Moreover, it also highlights food insecurity and food inflation as major challenges for Nigeria, with a 5.7 million metric ton shortage across human consumption and agro-processing, and a historic high food inflation rate of 30.64%. Currently, Nigeria's Global Hunger Index score remains alarmingly high, ranking 109th out of 125 countries, indicating a severe food security crisis. The report notes that as food prices continue to surge, as witnessed in the 2023 season, food security challenges will continue to persist, further reducing the continent's capacity to achieve zero hunger by 2030.
"This year, we nearly doubled our sample size from 20,677 to 39,091 to get an accurate reflection of the current state of agriculture production, and we found that we must take extra care to prioritise improvement in agricultural productivity for these farmers, and this is hinged on investing in the sector, and solving for infrastructure, logistics, and technology gaps," said president/CEO of AFEX Nigeria, Akinyinka Akintunde during the launch event. "This transformation will substantially enhance food self-sufficiency and increase our ability to meet the nutritional and food security needs of a growing population while also bolstering the economy through foreign exchange earnings."
For more information, and to download the report, visit: afex.africa