Zambia, Ethiopia and Mozambique have invited Indian businessmen to invest in the agricultural industry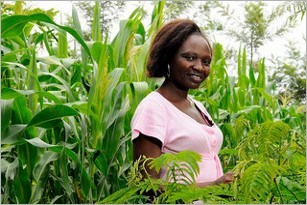 The African nations showcased the potential for investment in agricultural sector. (Image source: CIAT/Flickr)
Speaking at the 'Doing business with African countries' session organised by the Confederation of Indian Industry (CII), diplomats from the three African nations showcased the potential for doing business in each of their agricultural sectors.
The African diplomats pointed out to the vast unutilised arable land, best agro-climatic conditions, a stable political system and investment incentives including 100 per cent repatriation of profit available for investors.
Urging the businessmen to take advantage of the investor-friendly climate, the officials said businessmen can also reach out to markets across the entire African continent, the Middle East and the European Union.
Indians with their good knowledge of agriculture, expertise and technology should come forward to invest in agriculture in Zambia, which is offering land and other incentives on first-come, first-served basis, Zambia high commissioner Susan Sikaneta said.
"Chinese are coming in big numbers but we love Indians to come. You have passion for Africa. You are not like other countries which are interested only in making money," Sikaneta stressed, advising investors not to miss the opportunity.
Appreciating the expertise and knowledge of Indian businessmen in the agriculture and allied sectors, she said there are plenty of opportunities in the Central African country as it has 43 million hectares of land but only six million was being used.
Mozambique deputy high commissioner Maria Fatima Phume remarked, "The investment in agriculture can secure food for our people and also for India. The investors can also export the agriculture produce to other African countries and Middle East."
Only 15 per cent of 36 million hectares of arable land in Mozambique was utilised due to lack of agriculture technology, she revealed.
Highlighting the investment incentives like 100 per cent exemption from import duties, Ethiopia embassy economic and business minister Jerusalem Amdemariam said the country offered tremendous business opportunities in agriculture and manufacturing, particularly agro-processing, food and beverages.
"The investors are allowed to repatriate the entire profit. Agro-processing industries are also exempted from income tax for two to seven years," she stated.
CII has indicated that there were plans for a small delegation of entrepreneurs to visit the African countries in September this year.