A machine to crush and extract oil from nuts of tropical almond has been designed in Ghana, which might transform the crop into a leading non-traditional export commodity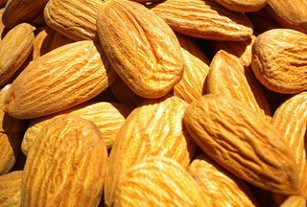 Almond could be an alternative cash crop to cocoa and timber in Ghana. (Image source: HealthAliciousNess/Flickr)
The Tropical Almond Growers Association of Ghana (TRAGA) president Samuel Abrah, who made the invention, has started distilling edible oil from an almond variety known as 'abrofo nkatie' in Twi.
Sharing his knowledge at a stakeholders' forum under the theme 'tropical almond an unexpected economic tree in Ghana', Abrah revealed, "The oil could be processed into jam and milk, the husk could also be processed into animal feed and fertiliser while its leaves could be used for tea."
Abrah stressed that the discovery had the potential for building industries for export, thereby creating employment to alleviate poverty. The tropical almond crop could be grown in all parts of the country and had economic, health and environmental benefits. 
Appealing for technical and financial support to increase cultivation of the crop, Abrah said it could become a leading non-traditional export commodity in Ghana.
University of Ghana Food and Nutrition Department professor Kwaku Tanoh Debrah explained at the meeting that every part of the almond tree was useful and, when given the necessary attention, would be an alternative cash crop to cocoa and timber.
He pointed out that tropical almond could cure diseases and contained phosphorous, calcium, carbohydrate, crude fat, magnesium, iron, sodium manganese and other vitamins useful for the human body.
Deliberating on the benefits of growing the crop, Ministry of Food and Agriculture Kwahu South District director, John Nketiah Gyemfi, encouraged cultivators in the Kwahu area to grow the almond on a large scale to serve afforestation and protect the environment.
Farmers, chiefs, assembly members and local entrepreneurs attended the forum in Abetifi.