A report – 'On Air Dialogues: Listening to Rural People' – released recently by Farm Radio International, the International Fund for Agricultural Development (IFAD), World Vision Canada, and the Canadian Food Security Policy Group, shows that many farmers in sub-Saharan Africa are optimistic about the future of farming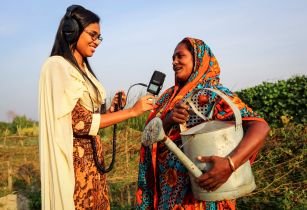 Women farmers emphasised the need for access to loans and financial support as vital for their success. (Image source: International Fund for Agricultural Development)
This is timed to bring the voices of rural small-scale farmers to the UN Food System Summit on 23 September.
The report includes data gathered over three weeks in June 2021 by six radio stations in four African countries – Burkina Faso, Ghana, Tanzania, and Uganda. Through interactive radio shows and innovative mobile phone polling, farmers were able to directly voice their concerns and share their proposed solutions when it comes to global food systems. In response, 3,494 participants left 11,854 answers and 2,648 audio messages.
Of the thousands of farmers taking part in the four-country survey, two-thirds believe their children can succeed in farming, though many cautioned that food systems will need to change in order to make living incomes possible.
Hélène Papper, IFAD director of Global Communications and Advocacy said, "With direct input from so many rural farmers, we have a greater insight into their challenges, and how we can support their strong desire to stay in their communities and build a future for their families in agriculture. These are the voices that global leaders gathering for this week's Food Systems Summit need to hear, and act upon."
Oscar, a small-scale farmer from Tanzania pointed to one of the many inequities that exist across food systems. "Our crops are bought at a very low price," he said.