Demand for food in sub-Saharan Africa will rise by 60 per cent by 2030, according to the World Bank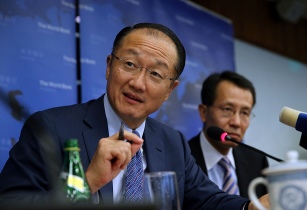 World Bank president Jim Yong Kim said countries should invest in climate-smart agriculture. (Image source: World Bank Photo Collection/Flickr)
A report by the group, entitled 'Ending Poverty and Hunger by 2030: An Agenda for the Global Food System' called for pre-emptive action from governments across the continent to increase agricultural productivity.
Released last week at one of a series of meetings between the IMF and the World Bank in Washington DC, the report was described by World Bank president Jim Yong Kim as "critically important".
"Countries should ensure farmers have access to markets, receive fair value for crops, and grow foods that will withstand the rigors of a changing climate," explained Kim.
One of the key arguments made by the report was the importance of climate-smart agriculture, predicting rising temperatures will cause crop yields to fall by between 15 and 20 per cent in the poorest regions.
Strengthening value across food chains was also said to be vital, with the report outlining policy and investment areas to help achieve this goal.
"We call for broad action by all on this agenda to end poverty and hunger by 2030," said World Bank senior director for agriculture Juergen Voegele.