The Alltech Sustainability Insights report which released on 26 October revealed that agri-food leaders around the world held faith in the industry's ability to work together to create a better, more sustainable food system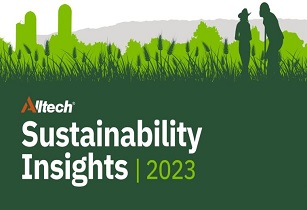 The results of the inaugural Alltech Sustainability Insights Survey are now available. (Image source: Alltech)
A global, industry-wide survey conducted by Alltech helped to gather insights on the issues that matter most to the agri-food value chain and its stakeholders. Insights were collected in collaboration with Opinions, an independent research agency based in Ireland, through 26 interviews with industry leaders and a comprehensive survey completed by more than 2,500 members of the agri-food industry.
The survey questions were focused on five areas including challenges and opportunities; drivers and priorities; attitudes toward change; support and guidance; and who they believe is going to pay for sustainability.
Following were the results of the survey:
While climate change was acknowledged and seen as a challenge to food production in the future, 85% of respondents however expressed a strong level of optimism, agreeing that the food system can rise to the challenge.
Around three in four respondents expressed the need for more guidance to support their improvements in environmental sustainability.
Most respondents agreed that regulation is putting pressure on all areas of the supply chain. Respondents were similarly realistic about the need for support for the primary producers.
92% of respondents believed that technology and innovation are key to more sustainable food systems.
93% of respondents agreed that we all must work together to create a better food system for the future.
"Our goal was to listen to the voices of our industry and its stakeholders and develop a robust, future-facing programme of insights that are relevant, ambitious and genuinely impactful," said Tara McCarthy, global vice president of ESG at Alltech. "Our industry is navigating unprecedented disruption, yet it remains confident and committed to evolving toward a more sustainable food system. The key to success will be the development of innovative solutions, but even more critical is the capacity of the industry to work together across the value chain."
For more information, visit: alltech.com/sustainability-insights