Arrigoni, a design and agrotextiles production group, held a workshop during the Italian Berry Day, titled 'Cultivating berries in non-native environments – protective screens for every environmental need'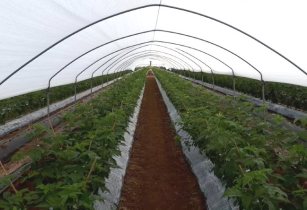 Arrigoni presented its agrotextiles tested in different places in the world to ensure the possibility of growing berries. (Image source:Arrigoni)
Giuseppe Netti, agronomist, and technical sales support of Arrigoni, held the conference at Macfrut, an international fruit and vegetable exhibition that took place at Rimini Fiera from 7-9 September.
Berry fruits are witnessing a phase of huge success at an international level. However, not all climates are suitable for the cultivation of small fruits. For these reasons, Arrigoni presented its agrotextiles tested in different places in the world to ensure the possibility of growing berries. This is done by creating the environment of the crop's origin, in terms of light and temperature, protecting the plants from new insects and extreme atmospheric agents, while reducing the use of plant protection products.
Two of the most relevant factors have been the use of white thermo reflective screens to reduce temperatures, which in fact can be up to 8/9°C lower than outside. It has been shown how protection from the sun and the diffusion of light can be well balanced for raspberry plants, through Arrigoni's white thermo-reflective screens. One of their products, Prisma, made of polyethylene tape with LD additive, allows a more uniform development of plants and reduces the temperature in the protected area, thus creating the microclimate suitable for different crops.
Robuxta is a thermo-reflective screen made of tape and monofilament, resistant to abrasion. It is the ideal screen for the cultivation of berry fruits. Hail is also a factor for the cultivation of small fruits, which farmers can avoid by using Fructus and Iride monofilament mesh systems. These, in addition to protecting from hail, modify the microclimate by increasing relative humidity and shading, and protecting plants from birds and some insects.
Protecta is the single-layer multifunction screen made entirely of high-density polyethylene with high mechanical resistance and long life, which protects against the negative effects of rain on plants by reducing its passage by 90%, maintaining good conditions of permeability to air and protecting from late frost, wind, insects and sun.