Stakeholders from across Africa said there is an urgent need to take action against child labour in Africa's agriculture sector, at a regional conference hosted by the Food and Agriculture Organization of the United Nations (FAO) held on 30 September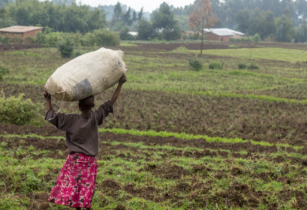 FAO said transforming agriculture offers a solution to child labour. (Image source: Adobe Stock)
Latest estimates show there are more children from sub-Saharan Africa (86.6 million), involved in child labour than in the rest of the world combined. The vast majority, four out of every five children, are engaged in child labour within the agriculture sector. Root causes include household poverty, limited access to quality education, inadequate labour-saving technologies, and traditional attitudes towards children's participation in agriculture.
"We need zero child labour in agriculture to achieve zero hunger, and we need to act now," said FAO assistant director-general and regional representative for Africa Abebe Haile-Gabriel, in his opening remarks at the event. "There is no justification whatsoever for having millions of African children in child labour," said Cynthia Samuel-Olonjuwon, International Labour Organization assistant director-general and regional director for Africa.
Participants included technical experts, government representatives, financial institutions, farmers' groups and labour organisations. The event is part of a series of regional events around the world ahead of FAO's high-level Global Solutions Forum: Acting Together to End Child Labour in Agriculture, in November.
Recommendations discussed at the event include supporting decent livelihoods for smallholder farmers such as through social protection, stronger and better organised producers' groups, integrating child labour prevention into the design of investment programmes for agriculture and rural development, and introducing labour-saving technologies.
Among those at today's event reaffirming their pledge for greater action was Godfrey Bahiigwa, director of Agriculture and Rural Development at the African Union Commission. "The African Union is committed to accelerating the achievement of SDG 8.7 and reducing child labour in Africa, and using its political and convening capacities to drive greater coordination of implementation efforts across the continent," he said.
The European Union has co-funded a multi-year, multi-country FAO project to support cotton farmers to expand their livelihoods and send their children to school instead of to cotton fields.