Nigeria's Bank of Agriculture will join forces with Kebbi State government to enhance small-scale farming in the Nigerian region by providing loan funding to support farmers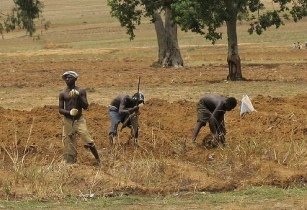 Small scale farmers in the Kebi state are expected to recieve support following funding from the Bank of Agriculture. (Image source: MikeBlyth)
The financial institution's managing director Dr Mohammad Santuraki stated this during a meeting with governor Dakingari in Birnin Kebbi, which aimed to help small-scale farmers in Kebbi State who produce the majority of the food the nation consumes and not large-scale farmers, said Santuraki.
"The essence of the [meeting] is to explore ways of establishing partnership with Kebbi State to encourage small-scale farming so that small-scale farmers would boost their production, our target is the small-scale farmers," he said.
The Kebbi State governor, Alh Saidu Dakingari, pledged to provide the required support to farmers in the state during the meeting.
Dakingari added that to take advantage of the programme the management of the bank would need to evolve to recover the loan amount for it to be successful.