Bayer CropScience has recently launched its new nematicide that is based on the active fungicide fluopyram, marketed under the brand names Velum and Verango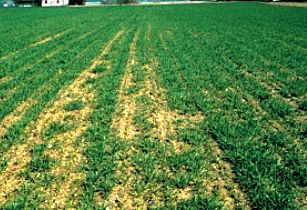 Protecting agricultural crops, e.g. wheat, from plant parasitic nematodes in one of the greatest challenges for farmers today. (Image source: Bayer CropScience)
In field trials, these products have shown a significant increase in yield and quality in a broad spectrum of crops, e.g. fruit, vegetables and tobacco. Velum and Verango are the first nematicides acting via complex ll inhibition, thus selectively inhibiting the nematode's generation of cellular energy.
Bayer CropScience also has plans to further invest in innovative nematode control tools to help farmers combat the destructive plant parasites and secure the food supply.
Mathias Kremer, head of strategy at Bayer CropScience, said, "Nematodes have a huge economic impact, causing an estimated US$100bn in crop damage every year. There is, therefore, a growing need for effective nematode control.
"As one of the leading innovative companies in our industry, we are committed to developing next-generation integrated pest management (IPM) tools which help farmers reduce nematode infestation and secure yields."
At the recently held 6th International Congress of Nematology at Cape Town in South Africa, Bayer CropScience presented the company's latest technologies to international experts in plant nematology research and education.
Hartwig Dauck, manager responsible for Nematode Control Strategy at Bayer CropScience, said, "Farmers need new, long-lasting nematicides with novel modes of action and favourable ecological and toxicological characteristics.
"A combination of modern chemical and biological treatments will be the most successful approach to effective nematode control and will become the cornerstone of integrated pest management (IPM) strategies for many crops."
Bayer CropScience offers a broad product portfolio with good fit for integrated nematode control, including VOTiVO (Bacillus firmus), BioAct (Paecilomyces lilacinusStrain 251) and Velum/Verango (fluopyram).
"Integrated solutions for nematode control are also the local focus in Southern Africa. Many growers have experienced our new technology in numerous field trials — and the first products are now available in Zimbabwe and South Africa," Klaus Eckstein, country head of Bayer CropScience Southern Africa, added.
Depending on regulatory approval, Velum and Verango can be used for drip, soil drench and in-furrow application and for soil incorporation. Additional benefits are their efficacy against fungal diseases such as alternaria leaf spot, powdery mildew and sclerotinia rot, making the duo a ground-breaking IPM tool.
Biological nematode control with VOTiVO and BioAct
According to the company, the roots of corn, soy, cotton and vegetables are attractive sources of nutrients for pests like nematodes. The seed treatment product VOTiVO, which contains the bacteriaBacillus firmus, is used in an increasing number of countries to reduce the impact of nematodes. It creates a living barrier of protection around the young root and limits the chance that the nematodes reach them and cause damage. Furthermore, plants thrive better over the entire growing season, are generally more resistant to stress factors such as heat or drought and give better yield.
BioAct is a high-quality solution for nematode control available as WP (wettable powder) and WG (water-dispersible granules) formulations. This Paecilomyces lilacinus-based biological nematicide controls a broad range of plant-parasitic nematodes in a large number of agricultural crops. The beneficial fungus in BioAct only targets plant-parasitic nematodes, especially the juvenile stages and eggs, without harming any other soil-dwelling organisms. BioAct is currently registered in more than ten countries worldwide.