Comprehensive agriculture policies are required in Malawi to bar illegal traders from exploiting farmers by offering them cheap prices, according to Oxfam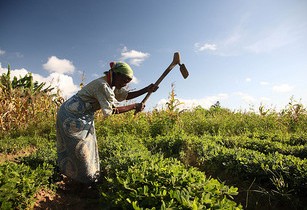 There is currently no legal framework that protects farmers from being exploited by traders. (Image source: ILRI/Flickr)
Oxfam made the statement during the recent signing of a memorandum of understanding (MoU) on agricultural policies and social commitment with aspiring MPs and councillors in Malawi's Mzimba District.
Speaking during the meeting, Oxfam Malawi programmes officer, Felix Minjale, expressed the need for the government to devise policies that bar unscrupulous traders from duping farmers by offering cheap prices for their produce.
"We want government to consider providing policies that benefit farmers and give them access to market," he said.
"That is why we have come to sign MoU on social commitment with aspiring candidates so that when they go to parliament, they should be able to push and influence government to come up with agricultural policies that favour smallholder farmers," Minjale added.
There is currently no legal framework that protects farmers from being exploited by traders and as the Agricultural Development and Marketing Corporation (Admarc) is funded in July, illegal traders attempt to buy maize and other crops in May and June.
"We therefore would like to ask government to consider funding Admarc as per season and not following the budget line, to enable smallholder farmers [to] sell their commodities to Admarc markets if improved rural livelihood is to be achieved," Minjale concluded.