Better Cotton has announced the launch of its new climate change mitigation target as part of a new strategy designed to deliver substantial environmental, social and economic impact across the cotton industry by 2030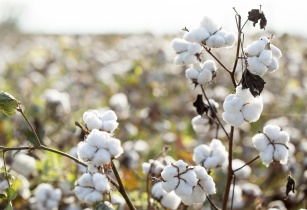 Better Cotton and its partners have also trained over 2.5 million farmers in 25 countries. (Image source: Adobe Stock)
The target has been set to reduce overall greenhouse gas emissions per tonne of Better Cotton, produced by 50% by 2030 (from a 2017 baseline).
Better Cotton is a non-profit, multistakeholder governance group that promotes better standards in cotton farming and practices across. Their mission is to help cotton communities survive and thrive, while protecting and restoring the environment.
Four additional targets covering soil health, pesticide use, smallholder livelihoods and women's empowerment are expected to be announced by the end of 2022 with impact indicators providing strong metrics for tracking and evaluating against the baseline.
These progressive new metrics will allow enhanced measurement across the five key areas to ensure greater and lasting economic, environmental and social benefits at farm level for cotton growing communities.
Better Cotton and its partners have also trained over 2.5 million farmers in 25 countries. Alan McClay, CEO, Better Cotton said, "This is a pledge for Better Cotton farmers and a stake in the ground for the global cotton sector. Nearly a quarter of the world's cotton is currently produced under the Better Cotton Standard. We aim to at least double that by 2030. At COP26, the textile and fashion industry announced a whole series of commitments aimed at achieving net zero by 2050. Our new 2030 Strategy not only aligns with these goals but sets solid and measurable metrics that will have material impact across cotton production worldwide for the benefit of the whole industry."
He added, "We know that climate change poses a great risk to cotton farmers - with rising temperatures and more extreme weather events like flooding and unpredictable rains. We will help on the ground by incentivising farmers to enrich the environment and embrace both climate-smart and regenerative agricultural practices. We will also help open doors to markets, and through our metrics, feed back information on the results farmers are achieving, so they can see the benefits of sustainable practices and continuously improve the way they farm."
Better Cotton also plans to take the lead in developing solutions for physical traceability enabling retailers and brands to make stronger sustainability claims related to the cotton content and provenance of their products.
The climate change mitigation target launch comes on the back of the recently released 2020 Better Cotton Impact Report. The evolution of more sustainable cotton production methods continues to build on previous farmer reporting and demonstrates how each component of the Better Cotton Standard System is set up to deliver impact in a world where supply chain transparency and accountability are paramount.
Jason Clay, senior vice-president, Markets, and executive director, Markets Institute at WWF said, "Better Cotton was one of the first certification programmes that focused on performance metrics for the key impacts of producing cotton. This new announcement re-enforces these aims and adds considerable weight to mitigating against climate change."
Better Cotton and Deutsche Gesellschaft für Internationale Zusammenarbeit (GIZ) GmbH, on behalf of the Federal Ministry for Economic Cooperation and Development (BMZ), have cooperated since 2019.
Felix Ruhland, head of Global Programme said, "Sustainability and Value Added in Agricultural Supply Chains" at GIZ added, "We very much welcome the new 2030 Strategy of our partner Better Cotton. Together, we can increase yields and market access for smallholder farmers, while promoting decent work, reducing inequalities, and driving women's empowerment in cotton production in the Global South. The focus on contributing to the mitigation of climate change is very much in line with the projects efforts to reduce the negative environmental impact of cotton."
Marc Lewkowitz, president and CEO, Supima said, "Beyond the organisation, Better Cotton is a unique global platform that strives to do something that has never been done before, and that is to bring some collective continuity to the conversation around cotton."